Defend and Invest Your technology strategy for 2022
Defend and Invest Your technology strategy for 2022
Did you get a short break at Christmas? Even if it was just a few days, that break can give you huge clarity of thinking about where to take your business this year.
We call this the January Refresh & Refocus.
Let us tell you the two technology areas that will be the most important in 2022. They are Defend and Invest.
Defend is about protecting your business from cyber criminals. We believe cyber-crime is going to rise again this year, to levels never seen before.
Invest is about making sure technology is powering your business forward, not holding it back.
Our new guide looks at both these areas in detail.
READY TO IMPROVE YOUR BUSINESS' PRODUCTIVITY AND SEE BIGGER PROFITS?
BOOK A 15-MINUTE VIDEO CALL TODAY
We choose not to work with every business that's looking for a new IT support company. We need to make sure you're a good fit for us, while you're checking we're a good fit for you.
The next step is to book a 15 minute video call at a time that suits you. There's no obligation to buy anything, ever. Here's our live calendar:
GET YOUR FREE "EMAIL HIJACK" BOOK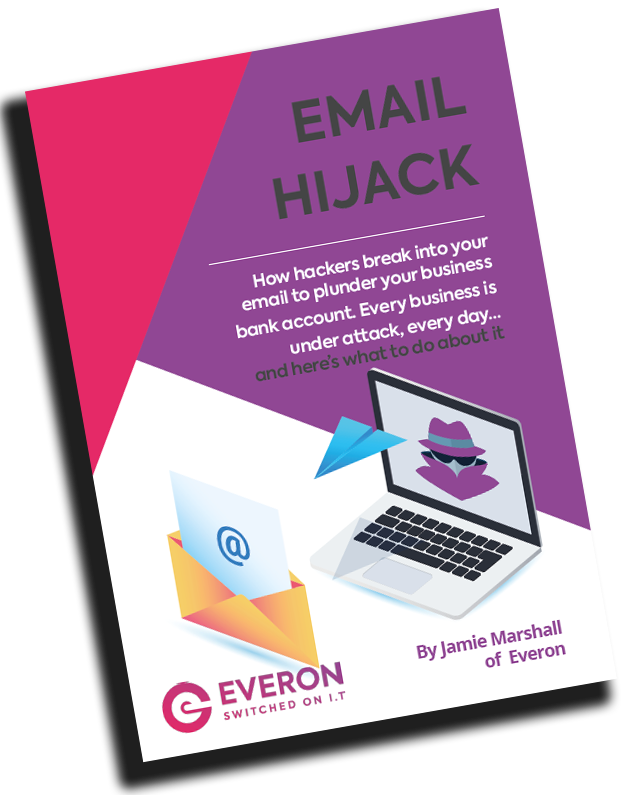 The book is an essential read for every business owner and manager. It explains complicated cyber security concepts in a way that anyone can understand.
It also reveals that these days, every business can be hacked. Because hackers don't go after specific targets any more. They use automated software to target ALL businesses, ALL the time.
The book also shows you how best to defend yourself and your team. There are a huge number of protective measures you could use.
But the real trick is finding the right blend that suits your business. One that protects you well, without interrupting how your staff do things (creating frustration among your staff).
I'm giving away free copies of Email Hijack for two reasons. First to educate business owners and managers round here about how email is the gateway to most cyber crime.
But also to act as an introduction to us and our services. We look after hundreds of businesses in Yorkshire, and keep them safe from hackers.
Apply now for a FREE IT Audit!
Please be aware: Unfortunately, we are physically unable to serve large quantities of customer while delivering high levels of service.
Our service is in high demand. To work with us, an application is necessary.
In our Free IT Audit, we'll find out which IT systems and support are best for your
current situation and which approaches will help you to get your next business breakthrough.
Click on the button below to book: